Our first Tour of the year will take us to Volcano National Park on Saturday, January 9th. We will enter the park individually, paying at the gate.
Cost to enter if your under 62, per car, $35.
Over 62, Senior rate, per car, $20.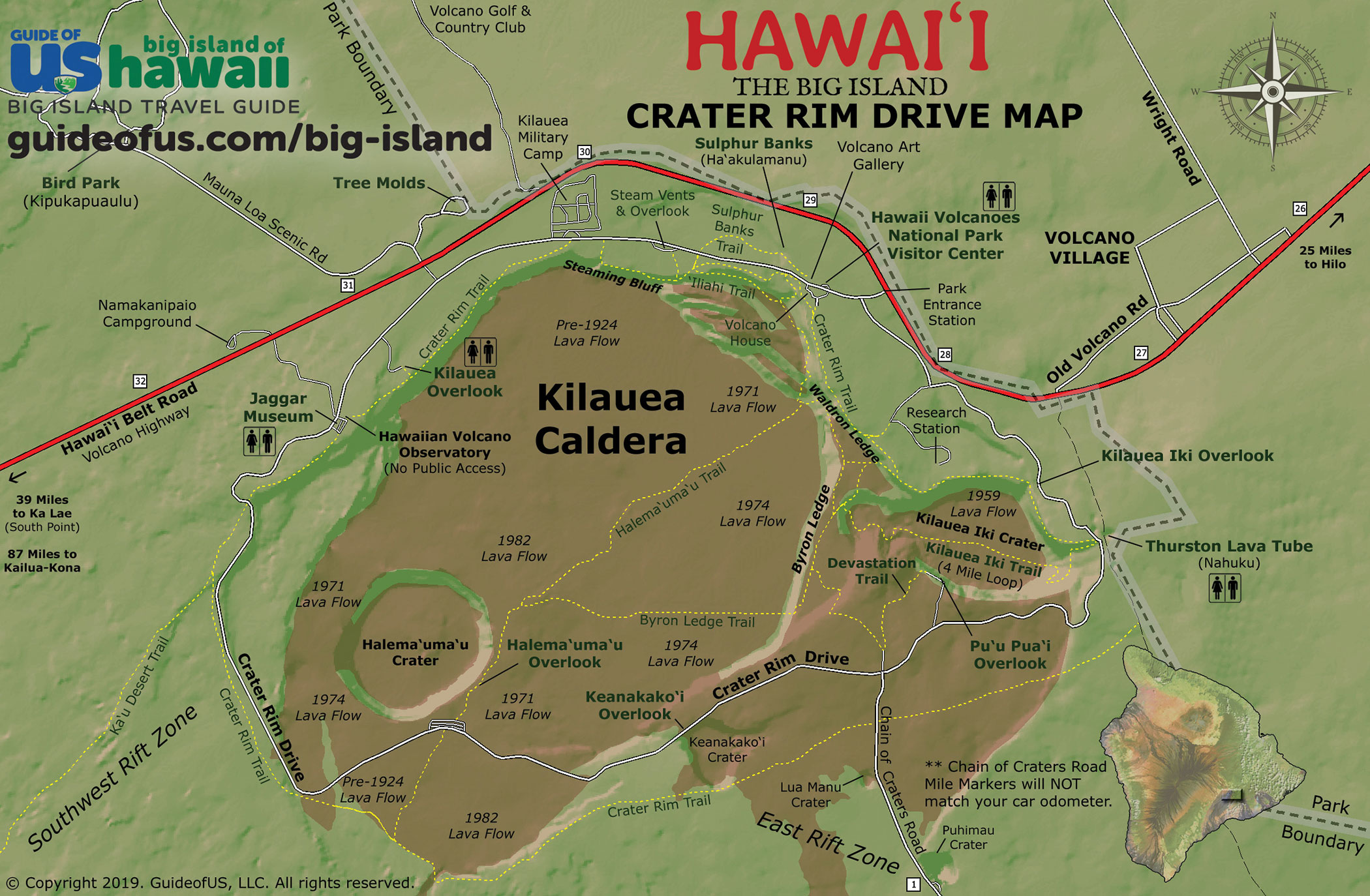 Bathrooms are available. Rangers are there as well. Bottom line, at the rate the lava lake is rising, it still won't be visible for 45 days by their estimate. Changes daily! Much to see!
Lunch planned at Volcano's Lava Rock Cafe, where we lunched two years ago. They open at 11:30 on Saturdays, but you will have to sit separately in their restaurant per current Covid regulations.
The starting place will be at Kona Commons Shopping Center, in front of the old Sports Authority Building on the Mauka side, with public restrooms, Target across the street, and lots of dining options including McDonald's for breakfast. The address is 74-5450 Makala Blvd, Kailua-Kona. We will meet at 10:00 and plan to leave at 10:30 with a pit stop at the market store in Ocean View around 11:30, with gas available there as well. From there we continue through Naalehu and Pahala and reach Volcano Lava Rock Cafe around 12:30.
After lunch, around 1:30, we will gather up and drive across the street to the Volcanoes National Park, where we pay our individual fees of entry and proceed to the Kilauea Caldera Viewing Area, park and take a short hike over to see the activity. There are other areas to view in the park, but this offers the best view of the current activity with a sizeable parking lot. Bathrooms are located in the park. Bring your jackets and be prepared for cold, if not wet, weather! We project to leave the park before 3:00 and head down to Hilo, which is only a 45 minute drive. Hilo members, you're close to home. Our ending spot is the parking lot at Prince Kuhio Mall. From there you can run over the Saddle on the new Saddle Road and be back in Kona or Waikoloa in just over an hour, still daylight, or travel the Hamakua Coast for just over an hour and be back in Waimea. Wonderful day trip and great way to enjoy our island's diversity with a fun group of people who share your passion for Porsche! If you want to view at night, you will have to wait around, but that's on your own!
Hope to see you there! Please contact our Tour Director, Dr. Mark Senft, and let him know if you're coming and how many. We have new communication radios and first aid kits for additional safety! Mark can be reached at tours@bih.pca.com or leave him a message at 808-936-3338.
A Hui Ho and Hau'oli Makahiki Hou!